Asst. Prof. Thasnai Sethaseree (Ph.D.)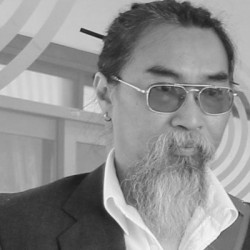 Thasnai Sethaseree was born in Bangkok, Thailand in 1968. Recurrent themes in his practice have included issues of memory, migration, and a philosophical questioning of the nature of knowing. Sethaseree is best-known for his conceptual and relational works, usually ephemeral in nature; his practice has recently turned to sculpture and painting. His turn to painting recently premiered at the prestigious Yerba Buena Center for the Arts in San Francisco.
Thasnai Sethaseree, Asia Pacific Breweries Signature Art Prize : Untitled (Hua Lamphong), Singapore Art Museum, Singapore, 25 May – 2 Septemper, 2018.
Thasnai Sethaseree, Sculptured Vol. 1 : Untitled 2015,Yavuz Gallery, Singapore, 24 June – 23 July, 2017.
Thasnai Sethaseree,Unsuspending Disbelief : The Spectacular, Logan Center for the Art, Chicago, USA. 22 January – 13 March, 2016.
Thasnai Sethaseree, And That Which Was Always Known : Untitled 2014-15, Yavuz Gallery, Singapore, 19 April – 24 May, 2015.
Thasnai Sethaseree, The Way Things Go : make it like home . . . anywhere?(2000–14),Yerba Buena Centre for the Arts, San Francisco, USA, 13 February – 24 May, 2015.