UTHIT ATIMANA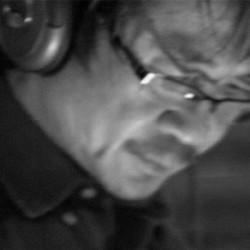 Uthit Atimana was born in ChiangMai. He is a keen intellectual and thinker in contemporary art and social media study. He started the "Chiangmai Social Installation" project (1993 – 1996). He was the vice-dean of the Faculty of Fine Arts, CMU for the CMU Art Museum (2000-2004) and was the director of the Media Arts and Design Center, CMU (2003-2005). At present he is a board member of the land foundation, a lecturer for the Media Arts and Design Center, CMU and is a PhD fellow of Media Study.
Selected Art & Cultural Activities
2001 The Fifth and The Sixth Chiang Mai Art and Culture Festival
1995 "Nonsensical Modernist Philosophical Theory in Art?": Faculty Exhibition
1993 "Philosopher's Room": Faculty Exhibition "Someone else Thinks and Makes My Art happen"
1992 "My Art Is Simultaneously, Ugrily, Badly Not Intended To Say Anything"
1989 "Artist's Room"
Projects
2007 Co-creation with Rirkrit Tiravannija in The Quiet in the Land Project At Luang- Prabang, Lao PDR
2003-2004 Buddhist Craftsmanship Project
2001 Co-ordinator of Eukabeuk Event
1998 Co-ordinator of Eco-culture Project
1998- The Land, Chiang Mai, Thailand
1997-1998 Co-ordinator of The Fourth Chiang Mai Social Installation
1997

Artistic Organizer for Poi Luang Constitutional Installation: Thai Constitutional movement
Co-ordinator of The Third The Week of Co-operative Suffering"Teaching Art is an Art Project"

1996 Co-ordinator of The Second The Week of Co-operative Suffering
1995-1996 Co-ordinator of The Third Chiang Mai Social Installation"Sea Game is Art: Conceptual Self-learning Project"
1995

Co-ordinator of The First The Week of Co-operative Suffering
Participation in "Sculpture of Nothingness Project", Germany

1993-1994 Co-ordinator of The Second Chiang Mai Social Installation "My Family Is Art"
1993 Co-ordinator of "Magic Set Project"
1992-1993 Co-ordinator of Temples & Cemeteries Art Festival
1991 Co-ordinator of The Social Protesting as Artistic Movement Project
Teaching
2006

Profession Instructor of Faculty of fine arts, Chiang-Mai University, THAILAND.
Instructor (De-sign Lab)Master Degree, Media Arts and Design, Graduate School, ChiangMai University, THAILAND.
Lectured and exhibition at Stedelijk Museum, Amsterdam. Project Mapping the studio(Rirkrit Tiravanija&the land foundation)

2003-2006 Head of Media Arts and Design, College of Graduate Study, Chiangmai University
2000-2004

Head of The CMU Art Museum, Chiangmai University
Vice Dean of Academic Affair, Faculty of Fine Arts, Chiangmai University
Society Memberships and Appointments
Advisory Board Member, The Land Foundation Committee and Consultants
2006 Committee for the National of One Tom-bon One Product (OTOP), THAILAND.
2005-2007 Contemporary Arts Research Committee for Cultural Ministration,THAILAND.
Specialists
Contemporary Arts, Sculpture, Design, Media and Cultural Study
E-mail : uthit_a@hotmail.com
---
---